---
Ports-to-Plains Expand its Advocacy Efforts
With the opportunity for Congress to pass a transportation reauthorization or infrastructure bill, the Board of Directors of the Ports-to-Plains Alliance decided to add additional advocacy services to its current level. Currently, in addition to the volunteer board, and two staff, Duffy Hinkle, Vice President of Membership and Marketing and Joe Kiely, Vice President of Operations, the Alliance is working with Covington & Burling LLP in Washington DC with representation by Jack Schenendorf and others. Hance Scarborough LLP in Austin, TX is being led by Cheri Huddleston. Jack's expertise is in transportation policy and legislation from his 25 years of experience as a staffer for the U.S. House Committee on Transportation and Infrastructure. Cheri has been leading the successful effort to pass and implement Texas House Bill 19-1079.
The Board has added Hance Scarborough LLP in Washington DC, under the leadership of David Pore, to the Advocacy Team bringing strong relational experience with members of Congress. Jack and David will work together to urge the congressional delegation to sponsor and support the legislation to designate the entire Ports-to-Plains Corridor and the Heartland Expressway between Interstate 70 at Limon and Interstate 76 at Brush.
Hance Scarborough LLP Washington DC Team
David Pore
David Pore is a Partner based at the Washington, D.C. office of Hance Scarborough LLP, where he represents trade associations, businesses, universities and local governments before the U.S. Congress and executive branch agencies. Before rejoining Hance Scarborough in March of 2017, David was Counsel at the DC offices of Arnold & Porter from 2009-17. Before that, David was an Associate at the Austin office of Hance Scarborough (2004-2009), representing similar clients at the state and federal levels.
With nearly 20 years of public policy experience, David Pore has a proven track record as a successful, bipartisan attorney and lobbyist in both Austin and Washington, DC. He has handled legislative matters, congressional investigations and agency enforcement and disciplinary actions for a wide variety of clients. David has long-standing relationships with several trade association and corporate clients, representing them on health care, transportation, energy, tax, education, defense, intellectual property, environmental and other issues. In addition to developing governmental relations strategies tailored to his clients' needs and directly engaging with policy makers on their issues, David also advises clients on political and campaign law, coalition building, grassroots and public relations. He also does regular pro-bono work, including an ongoing effort for Children's Hospice International to pass federal legislation to improve medical care for Medicaid and CHIP-eligible children with life-threatening illnesses.
Before moving to private practice, David worked as an in-house attorney and lobbyist for the Association of Texas Professional Educators (2002-2004), served as Legislative Director for a U.S. Congressman from Texas (1999-2002) and as a Legislative Aide to a member of the Texas Legislature (1998-1999). David is a 1998 graduate of the Texas Tech University School of Law and is licensed to practice in Texas and in the District of Columbia. He serves on the Board of Directors and as volunteer Legal Counsel to the Texas State Society of Washington, D.C. and resides in Vienna, VA with his wife Melissa and their two children.
Damon Wells
Damon Wells previously served as the senior vice president of government relations at the National Turkey Federation. Wells oversaw and implemented all aspects of the federation's legislative affairs program, from policy formulation and development to advocacy on Capitol Hill, in a manner that helps ensure the turkey industry's ability to profitably produce high-quality, nutritious products. Damon also assisted with international market develop for the turkey industry and is currently heading up the initiative to develop the NTF Foundation that will function to improve educational opportunities in and about the industry.
Wells worked for NTF for ten years and spent a year as professional staff on the Senate Agriculture Committee working for Blanche Lincoln (D-AR) with the responsibility of advising the Chairman on food safety, conservation, livestock, poultry and aquaculture issues. He previously joined NTF in February 2007 as director of legislative affairs. Wells has also held a legislative staff position for Reps. Chet Edwards, D-Texas, where he provided advice on agriculture, energy and natural resource issues. Wells holds a B.S. in animal science from Sam Houston State University in Huntsville, Texas, and a master's degree in agriculture education from Texas Tech University in Lubbock.
Finally, Damon has been on the front lines of crisis management during the devastating HPAI outbreak of 2015 and 2016 that swept a large portion of North America impacting turkeys and egg layers production where he gained first-hand knowledge of USDA disease management processes and ultimately helped streamline protocols for mitigating the impacts of the disease domestically and globally.
Michael Tomberlin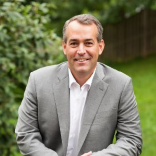 Michael Tomberlin is based at the Washington, D.C. office of Hance Scarborough, where he represents and provides expertise to various clients including but not limited to: trade associations, businesses, and local governments before the U.S. Congress and executive branch agencies. Before joining Hance Scarborough in August of 2017, Michael was Vice President of Federal Governmental Affairs at NCPA, where he lobbied federal affairs in the House and Senate for over 5 years. Michael has extensive experience on Capitol Hill serving in many roles over 12 years as both a Legislative Director and as a Chief of Staff to multiple members of Congress.
---
Future Interstate Designation Legislation
The Ports-to-Plains Advocacy Team is working with members of Congress from Texas, New Mexico, Oklahoma and Colorado to sponsor and support legislation designating the entire Ports-to-Plains Corridor and the Heartland Expressway between Interstate 70 at Limon and Interstate 76 at Brush. The process of accomplishing this designation goal is multi-dimensional. Efforts are underway in both the U.S. Senate and U.S. House of Representatives to develop stand-alone bills with multiple co-sponsors, inclusion of the language in the transportation reauthorization bills in each body, and inclusion of the language in the annual appropriations bills for each body.
The proposed legislation would do three things:
It would designate the Ports-to-Plains (High Priority Corridor #38 on the National Highway System) in Texas, Oklahoma, New Mexico and Colorado and a portion of the Heartland Expressway (High Priority Corridor #14 on the National Highway System) between Interstate 70 at Limon, CO and Interstate 76 at Brush, CO as a future addition to the Interstate Highway System.

It would direct states to erect signs along the route identifying such route as a future Interstate.

It would ensure that vehicles that can legally operate on this portion of the Corridor today would be able to operate once completed and opened to traffic.
The proposed legislation would NOT do the following: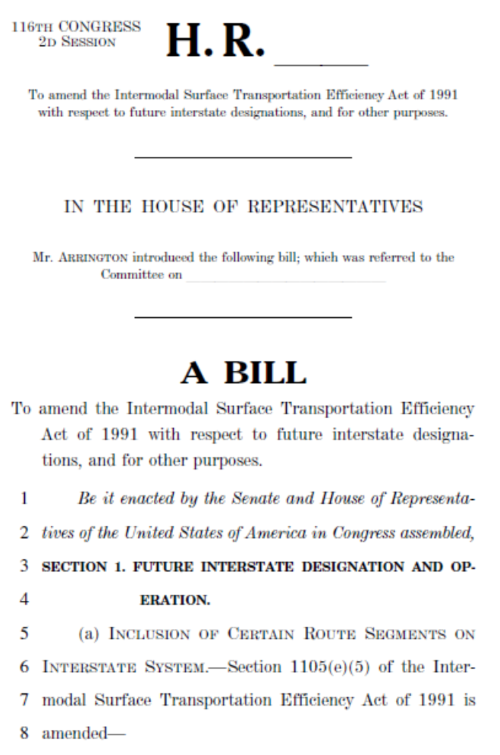 ---
At this time, the Washington DC Fly-in has been postponed. The Alliance is looking at alternative methods of delivering our policy and legislative messages to Congress. Stay tuned for more details.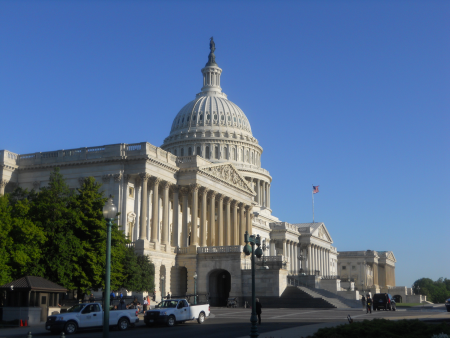 ---
Upcoming HB 1079 Segment Committee Meetings
The third set of Segment Committee meetings for the Ports-to-Plains Feasibility Study will be held April 1-3, 2020. TxDOT has notified Segment Committee members: Due to the Coronavirus (COVID-19) concerns and to do our part to help prevent its spread and to continue business operations, TxDOT is under a mandatory telework and no business travel for all office workers from March 16 through April 3rd. As a result these Segment Committee Meetings will be held via WebEx/Conference Call.
Segment 1
April 1, 2020
Time: 8:00 am - 12:00 pm CDT
Conducted via WebEx/Conference call
Segment 2
April 2, 2020
Time: 8:00 am - 12:00 pm CDT
Conducted via WebEx/Conference call
Segment 3
April 3, 2020
Time: 8:00 am - 12:00 pm CDT
Conducted via WebEx/Conference call
Each committee will review a summary of the second round of Public Meetings, the segment economic development impacts, corridor improvement strategies and recommendations for the segment and the segment Report Chapters 3 & 4.