---
In preparation for the upcoming congressional actions to address both transportation and reauthorization, the Ports-to-Plains Alliance has developed its 2021 Policy Priorities paper. The priorities include Future Interstate Highway Designation (I-27) and a set of general priorities. The 2021 Ports-to-Plains Alliance Policy Priorities is available to download HERE.
Future Interstate Highway Designation (I-27)
The Alliance strongly recommends designating the Ports-to-Plains Corridor in Texas, New Mexico, Oklahoma, and Colorado and a portion of the Heartland Expressway in Colorado (between I-70 at Limon, CO and I-76 at Brush, CO) as a future addition to the Interstate Highway System.
Congressionally-Directed Investment
The Alliance understands that members of congress may be given an opportunity to submit requests for specific highway and transit projects that are consistent with state and local infrastructure plans. The Alliance strongly supports congressionally-directed investment that is transparent, fair, and recognizes the unique needs of the nation's rural transportation systems. We look forward to working with our members of congress to identify worthy projects up and down the corridor.
General Priorities
The Ports-to-Plains Alliance 2021 Policy Priorities paper provides more details on these priorities and a description of the benefits from the priorities.
The Alliance supports:
A multi-year reauthorization bill;

A substantial increase in investment in the national transportation network;

A long-term, sustainable fix for the Highway Trust Fund;

Continued project delivery reforms to reduce the times for approvals and permitting; and

Addressing disparities in rural transportation infrastructure to significantly improve safety and economic competitiveness in all parts of the country.
More specifically, the Alliance recommends that Congress:
Increase and prioritize investment in the National Highway System

Emphasize Connectivity

Restore Federal Leadership
In developing transportation policies and priorities, Congress must also recognize that what works in urban America does not always work in rural America, and vice versa. Federal policies and decision-making should take that into account by not adopting one-size-fits-all policies that limit flexibility. For example—
Public-private partnerships.

Overemphasis on traffic counts and freight volume.

"Fix it first" investments.

Expanding local control over transportation decision-making.
---
U.S. House of Representatives Advocacy
Congressman Arrington (TX-11), with original co-sponsors Henry Cuellar (TX-28), Tony Gonzalez (TX-23), Ronny Jackson (TX-13), Kay Granger (TX-12), and Kelly Armstrong (ND-At Large), introduced H.R. 1608, the Ports-to-Plains Highway Act of 2021. Please thank your member of Congress if they are sponsoring and if they are not listed encourage them to sponsor this legislation. They can still be added. Download H.R. 1608 HERE.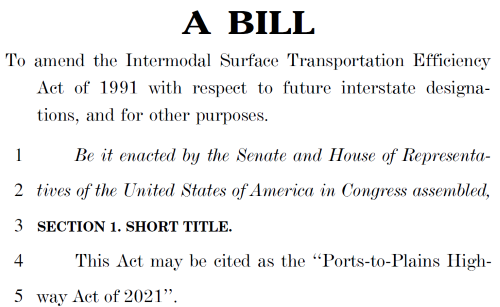 H.R. 1608 is a step in reaching the real goal: including the full four-state designation in the final Transportation Reauthorization or Infrastructure Bills. It sounds like the House Transportation and Infrastructure Committee is going to begin its deliberations from H.R. 2 – The Moving Forward Act that was passed by the House in the 116th Congress. H.R. 2 included language designating the Ports-to-Plains Corridor in Texas and New Mexico. A that time, we only had letters from Texas and New Mexico supporting the designation. We now also have letters from Colorado and Oklahoma DOTs.
The U.S. House of Representatives has set a Member Day hearing April 14, 2021 to receive testimony from Members of Congress about their policy priorities.
The House Committee on Appropriations has released a Community Project Funding Fact Sheet outlining the reforms for transparency and accountability for what was once called earmarks. That Fact Sheet can be downloaded HERE.
---
In the U.S. Senate, Senator Cruz, with original co-sponsors John Cornyn (TX) and Kevin Cramer (ND), has introduced S. 705 with the same language as H.R. 1608 in the U.S. House. Download S. 705 HERE.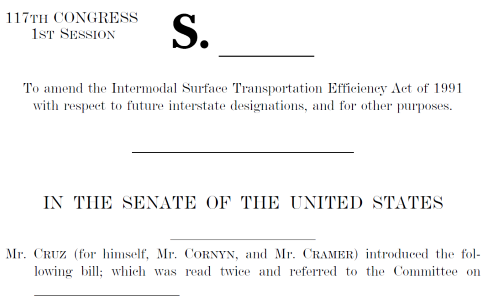 The U.S. Senate Environment and Public Works Committee has provided a deadline for Senators to submit their priority policies to the committee by March 19, 2021. Ports-to-Plains Alliance has responded to requests for individual senate offices in Texas, Colorado, and Oklahoma to provide input on priorities.
---
The Texas State Legislature will be considering several items associated with the results of the Ports-to-Plains Corridor Interstate Feasibility Study completed in 2020. The study contained recommendations to establish an I-27 Corridor Advisory Committee and the development of an I-27 Corridor Implementation Strategy.
Creation of an I-27 Corridor Advisory Committee
The Ports-to-Plains Advisory Committee recommends TxDOT establish an I-27 Corridor Advisory Committee. The Corridor Advisory Committee will be charged with providing advice and guidance to TxDOT on the implementation priorities of the interstate feasibility study project recommendations to upgrade the Corridor to an interstate facility and the interstate designation of the Ports-to-Plains Corridor in Texas. The Committee will also be responsible for engaging national, state, regional and local stakeholders on I-27 extension status and project development.
I-27 Corridor Implementation Strategy
The Advisory Committee recommends TxDOT develop a Ports-to-Plains Corridor improvements implementation strategy within six months of TxDOT's Ports-to-Plains Corridor Interstate Feasibility Study Report submission to the Governor and State Legislature.
As a result, Texas Senator Charles Perry (28) introduced SB1474 and State Representative Four Price (87) introduced HB 3675. Both bills use the same language to create the I-27 Advisory Committee.
Download SB 1474 HERE
Download HB 3675 HERE

---
Amazon Announces First Fulfillment Center in Amarillo, TX
"To say that the addition of Amazon to Amarillo is exciting is an understatement," said Amarillo Mayor Ginger Nelson. "Amazon is one of the more incredibly successful companies in U.S. history. This company will have a significant presence in Amarillo that will provide a boost to not only the Amarillo economy, but the economy of the entire Texas Panhandle. Amazon is creating hundreds of good-paying jobs for Amarillo. This will have a major ripple effect on the local and area economy. I want to congratulate the Amarillo Economic Development Corp. for the hard work in helping make this fantastic partnership with Amazon a reality, and we welcome Amazon, its jobs and its opportunities to Amarillo."
According to Amazon's press release, in the new 1,000,000 sq. ft. fulfillment center, Amazon employees will "pick, pack, and ship bulky or larger customer items, such as furniture or outdoor equipment." "The new operations facility is expected to create over 500 new, full-time jobs."
Complete Amazon press release is available HERE.
The Amarillo Economic Development Corporation and Amazon held a joint press conference on Thursday, March 11, 2021. Click on the image below to view the press conference.
AMARILLO EDC PRESS CONFERENCE HERE
---
Check out the newest Ports-to-Plains Video!