---
2019 Annual Conference Success
Once again, the 2019 Annual Conference was a success. The City of Williston and its Economic Development staff and the Williston Convention and Visitors Bureau proved great hosts. The conference was made possible by our sponsors. Thank you to those sponsors. You not only support the conference but also the advocacy efforts of the Alliance. Click Here to see the sponsors.
If you were unable to attend or heard a presentation that interested you, each PowerPoint presentation and video is available by Clicking Here.


Tour of Long X Bridge Construction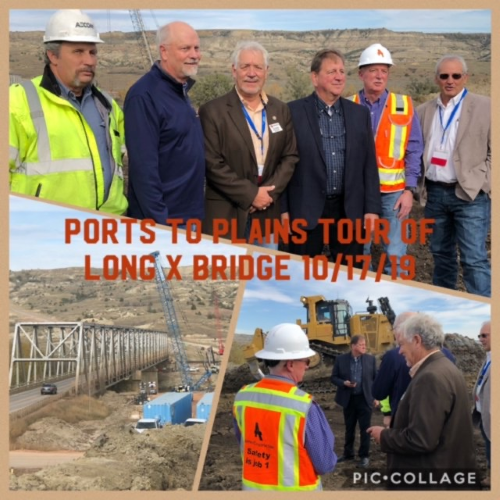 ---
The Ports-to-Plains Advisory Committee established by House Bill 1079 held its initial meeting in Lubbock on October 1, 2019. The Committee consisted of twenty-six County Judges and eighteen Mayors or their designee along the Texas Ports-to-Plains High Priority Corridor on the National Highway System.
Opening remarks were made by State Senator Charles Perry, State Representative Four Price and Transportation Commissioner Alvin New. Perry and Price were the sponsors of House Bill 1079. Ports-to-Plains appreciates the remarks provided by each.
Lubbock Mayor and Ports-to-Plains Board Member Dan Pope was elected as Chair of the Advisory Committee and Sutton County Judge and Ports-to-Plains Board Member Steve Smith was elected as Vice Chair.
See below for information on the Segment Committees approved by the Advisory Committee.
This initial meeting was the first of five Advisory Committee meetings. While specific dates have not been set, the meetings are planning in January 2020 in San Angelo, March 2020 in Lubbock, July 2020 in San Angelo and September 2020 in Lubbock.
The Advisory Committee will review and compile reports from Segment Committees to form a full Advisory Committee Report to TxDOT by October 31, 2020. No later than January 1, 2021, the TxDOT shall submit a report on the results of the study to the governor, the lieutenant governor, the speaker of the house of representatives, and the presiding officer of each standing committee of the legislature with jurisdiction over transportation matters.
---
House Bill 1079 requires the establishment of Segment Committees for each geographic segment along the Ports-to-Plains Corridor. The Segment Committees include representatives from municipalities, counties, MPOs, ports, chambers of commerce, economic development organizations, oil and gas industry, trucking industry, and other interested parties. The Advisory Committee established the following segments:
Segment No. 1: New Mexico and Oklahoma borders to Hale/Lubbock County line

Segment No. 2: Hale/Lubbock County line to Sutton/Edwards County line

Segment No. 3: Sutton/Edwards County line to I-35/Juarez-Lincoln Bridge in Laredo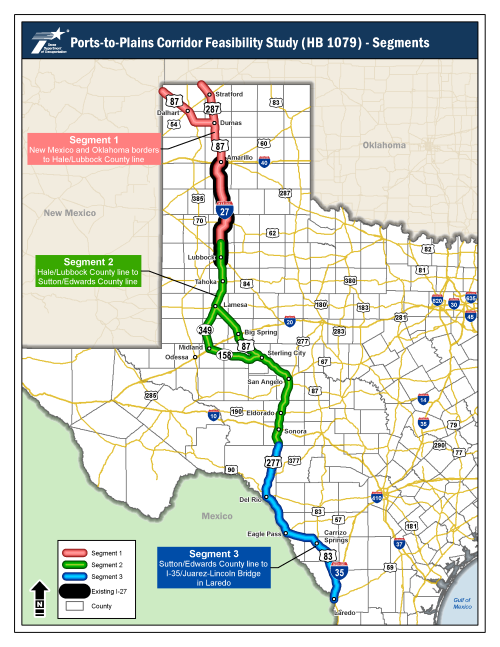 Click Image Above to Download Segment Map
Each of the Segment Committees will meet four times at locations within that geographic segment: November 2019, February 2020, April 2020 and June 2020.
Based on the details currently available from TxDOT, the following Segment Committee meetings will be held in November: (Updates will be posted HERE)
Segment No. 1: Wednesday, November 20th at Amarillo at Amarillo Civic Center Complex, 401 S. Buchanan St. Amarillo from 8:00 a.m. to noon
Segment No. 2: Monday, November 18th at Big Spring at Hotel Settles, 200 East Third Street, Big Spring from 8:00 a.m. to noon
Segment No. 3: Monday, November 4th at Del Rio at the Del Rio Civic Center, 1915 Veterans Blvd., Del Rio from 8:00 a.m. to noon
Please plan to attend as many of these as you are able. Your presence demonstrates your support.
---
Public meetings will be conducted quarterly during the study and at various locations within the Ports-to-Plains Corridor. These meetings will offer the public information about the study and the opportunity to provide feedback.
As of this date, two Public Meetings have been scheduled:
Segment No. 3 Public Meeting
City of Del Rio Civic Center
1915 Veterans Blvd.
Del Rio, TX
Monday, November 4, 2019
4:30 p.m. to 7:00 p.m.
Segment No. 1 Public Meeting
Amarillo Civic Center Complex
401 S. Buchanan St.
Amarillo, TX
Wednesday November 20, 2019
4:40 p.pm. to 7:00 p.m.
Your attendance at the Public Meetings is important, so please attend. This will give you a chance to provide input.


Click Image Above to Download TxDOT Notice
---
Election of Board of Directors
At the regular Board of Directors meeting held in Williston, ND on October 15, 2019, the Board scheduled the Annual Meeting of Ports-to-Plains for November 22nd at the Ports-to-Plains Headquarters and approved the Ballot for the election of the Board of Directors.
The Key Contact in each voting member organization was mailed notice of the Annual Meeting and the appropriate number of Ballots for the election of the Board of Directors. Since the election is the only agenda item, mailing in the Ballot(s) will be considered presence at the meeting. There is no need to attend in person. Please be sure that the ballots are received at the Ports-to-Plains Headquarters (1500 Broadway, STE 600, Lubbock, TX 79401-3100) by 2:00 pm CT on November 22nd.