---
Gardner, Bennet, Buck Announce Nearly $8.3 Million INFRA Grant for Ports-to-Plains Project
Washington, D.C. – Today Senators Cory Gardner (R-CO), Michael Bennet (D-CO), and Representative Ken Buck (CO-04) announced the U.S. Department of Transportation (DOT) is awarding the Colorado Department of Transportation (CDOT) a nearly $8.3 million Infrastructure For Rebuilding America (INFRA) grant for its US 287 project. The project seeks to add approximately 12 miles of passing lanes along US 287 in Southeastern Colorado known as the Ports-to-Plains Corridor.
"I am thrilled to see US 287 is receiving this important funding, as it is a vital freight route and is key to Southeastern Colorado's connectivity," said Senator Gardner. "This funding will help upgrade infrastructure in rural Colorado, bolster safety, reduce congestion, and create a more efficient path for commercial freight to travel in and out of Southeast Colorado."
"Colorado's Ports-to-Plains Corridor is crucial to our state and our country's energy, agriculture, and tourism industries," said Senator Bennet. "To keep pace with Colorado's growth, our highways require significant investment. This grant will enable CDOT to add passing lanes along US 287, alleviating congestion and enhancing safety."
"Infrastructure is an important facet of our nation's economy and vital to our way of life in eastern Colorado," said Congressman Buck. "I'm glad to see the U.S. Department of Transportation award CDOT with much-needed funding for our state's Ports-to-Plains project so we can help ease commercial freight travel and improve safety along the US 287 corridor."
The Colorado Department of Transportation will receive $8,297,000 for the Ports-to-Plains project. Senators Gardner, Bennet, and Representative Ken Buck sent a letter to Transportation Secretary Elaine L. Chao in March of 2019 supporting the US 287 Passing Lanes Project.
###
Cory Gardner is a member of the U.S. Senate serving Colorado. He sits on the Energy & Natural Resources Committee, the Foreign Relations Committee, the Commerce, Science, & Transportation Committee, and is the Chairman of the Subcommittee on East Asia, the Pacific, and International Cybersecurity Policy.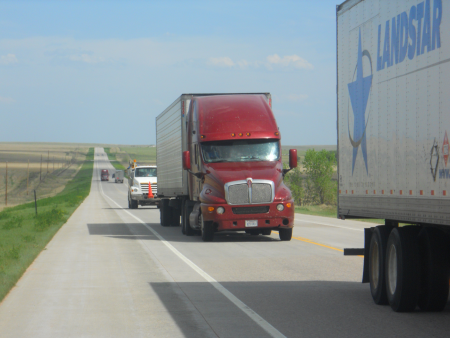 ---
Ports-to-Plains Trade Corridor Coalition
The Texas State Legislature passed and Governor Greg Abbott of Texas signed House Bill 1079 which directs Texas Department of Transportation (TxDOT) to conduct a comprehensive study of the Ports‐to‐Plains Corridor. The study must evaluate the feasibility of, and the costs and logistical matters associated with, improvements that create a four‐lane divided highway, which meets interstate highway standards to the extent possible
---
Heartland Expressway Association
The U.S. 385 Four-Lane Expansion, Alliance South Phase II Project has begun early activity including utility relocation, right-of-way acquisition and NEPA review. The project will expand an existing two-lane segment of the Heartland Expressway for 12-miles at a cost over $36 million, which by way of comparison, is more than District 5's annual construction allocation. This project, due for construction letting in 2021, has received $18,263,743 in INFRA grant money
---
Theodore Roosevelt Expressway Association
Following completion of the U.S. 85 Environmental Impact Statement and Record of Decision in March, North Dakota Department of Transportation has awarded the contract for the Long X Bridge at a cost of $33,971,510
The new bridge, to be built east of the current structure, will be four-lanes wide in anticipation of future construction that will widen other segments of Highway 85 between Watford City and Belfield

BUILD stands for (Better Utilizing Investments to Leverage Development) and has a maximum request of $25M and NDDOT is putting the Theodore Roosevelt Expressway Freight Expansion Project in at that amount. The award notices of winning projects are required to be made no later than November 12, 2019.
---
Wheels of Progress
"I don't for a moment believe that we can turn back the wheels of progress." Theodore Roosevelt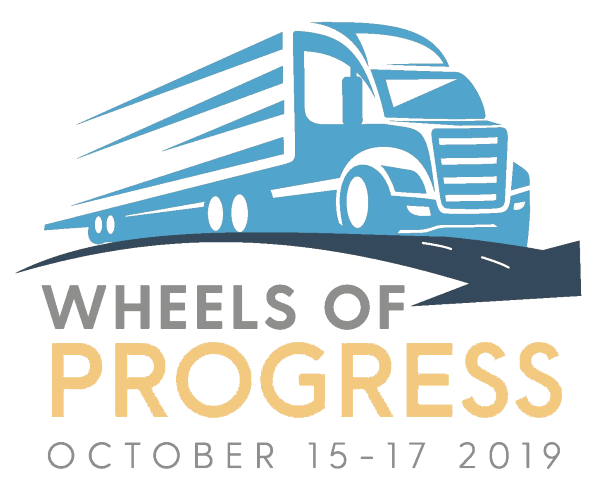 Theodore Roosevelt continues to have a significant impact in the west and especially in North Dakota, the location of the 22nd Annual Ports-to-Plains Alliance Conference. Highways play a growing part in moving the economy and people. North Dakota boasts the Theodore Roosevelt National Park and just approved the Theodore Roosevelt Presidential Library. How do visitors arrive at sites like these across the Ports-to-Plains region? Largely a highway is involved. How does the energy industry serve its sites in the Bakken, Niobrara, Permian and Eagle Ford with people and production products? Largely by highway. How are agricultural products moved for value added or markets? Almost always a truck is involved. How do manufacturers get their resources to the plant and finished products to markets? You have got it… Wheels on a highway.
Can we turn back the Wheels of Progress? The Ports-to-Plains Alliance does not for a moment believe that we can turn back the Wheels of Progress. Great progress has taken place in improving the safety and capacity of highways, but we must remain diligent in assuring that the Wheels of Progress continue to move forward.
You are what moves the Wheels of Progress forward in Washington DC, in your state capitals, in your local communities. Progress must continue in terms of highway funding and policy at federal and state levels. Energy, agriculture, trade, manufacturing and distribution all rely on the Wheels of Progress moving forward.
Join us in Williston, North Dakota on October 15-17, 2019 to learn about what the Wheels of Progress have accomplished, what lies ahead, and how you can help.
Help us move the Wheels of Progress forward by sponsoring the 22nd Annual Conference.
Your sponsor support not only allows us to hold an outstanding conference, but enables the Ports-to-Plains Alliance to continue moving the Wheels of Progress forward for the mission to advocate for a robust transportation infrastructure to promote economic security and prosperity throughout North America's energy and agricultural heartland. Click Here for the Sponsorship Opportunities
---
Texas-Mexico Border Transportation Master Plan - Data Questionnaire
The Texas Department of Transportation (TxDOT), in collaboration and partnership with the Border Trade Advisory Committee (BTAC), is working with binational federal, state, regional, and private sector stakeholders to undertake development of the Texas-Mexico Border Transportation Master Plan (BTMP). The BTMP is a comprehensive, multimodal, and binational plan that will:
Identify the movement of people and goods across the border, in border regions, and beyond

Focus on transportation issues, needs, challenges, opportunities, and strategies

Utilize a data-driven planning process to inform selection and prioritization of projects, policies, and programs

Support binational, state, regional, and local economic competitiveness
Your input on this Data Questionnaire is critical. It will provide valuable regional information on the development of the plan and also allow TxDOT to develop a binational data inventory, identify data gaps and strategies to close the gaps, and ultimately make available a binational data clearinghouse for use by all stakeholders.
Please see the survey link here: https://www.surveymonkey.com/r/BTMPData.
Please fill out this survey by August 16, 2019 and pass along this survey to others that may have data to contribute.
Please be advised that you will receive a second email regarding the interactive map for the International Trade Corridors Identification.
Thank you for your attention and please contact us at TxDOT_BorderTrade@TxDOT.gov if you have any questions.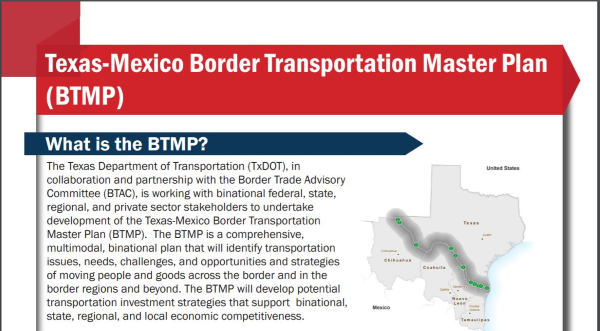 ---